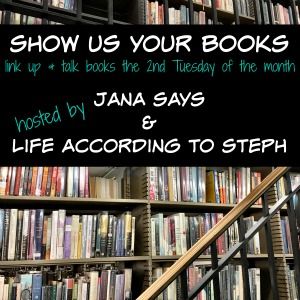 It's time for another Show Us Your Books Link-Up! I haven't read as much this month, but I do have one in progress and should still made my goal*.
This book has been all over the internet lately, with a ton of people who LOVE it. I enjoyed it, and there are tons of great things about it...but I didn't LOVE it. You can read a more in depth review of my feelings here.
I purchased this at my local used bookstore, and it sat on my shelf for at least 6+ months. It will definitely be going straight back there once I finish enough books to warrant a trip (I can trade in books for credit- so of course I do). But hey, it meets my goal of cleaning out my IRL TBR.
This book was really not worth reading. SvtHSA, I enjoyed but didn't love. This one...I literally had to force myself to read. It may be better if you recognize the author or people that he is talking about...I didn't (plus some of the names were redacted).

Here's what I wrote on Goodreads:

Can't honesty recommend this book. Towards the end there are some interesting observations, especially regarding Young's eventual introspection and comparisons of London v. New York (although he does say "America" a lot, and NYC is definitely not a good representation of the entire country). Based on the title and description I went in expecting a satirical and snarky view of celebrity culture from the inside. It's not really satirical so much as the matter-of-fact failures of a man to succeed in a shallow world that he legitimately valued. Even the end where he seems to have "grown up" so to speak seems more as though he got tired of sucking rather than truly underwent a serious mental change. Maybe I'm just reading it wrong but overall he seemed to take himself, and celebrity culture, all too serious while pretending he's above the BS.
*My yearly goal is 30 books total, which works out to about 2.5 a month. So I'm actually pretty much right on schedule with that.